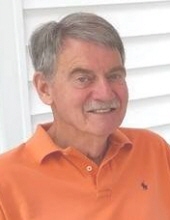 Richard Austin Hughes, Jr. Was born February 21, 1945, in Birmingham, Alabama, to Richard and Ruth (Hyde) Hughes.

Dick met his wife, Dian (without an "e") as he called her, in college when she asked him to a sorority dance.

Dick was called home on May 12, 2018, at his home in Bel Air, MD.

Dick loved a good pun to the annoyance of those around him, was an avid and determined conqueror of any crossword puzzle, and loved our rescue cat, Sarah Anne. Dick was a gentle soul,… who went to elaborate ends to save the life of any spider, moth or lady bug... having the unique ability to construct a geometrically correct paper cone to quickly scoop up and release the tiniest of creatures to the great outdoors. The secret can now be told, it was Dick who faithfully laid a nightly buffet to the skulk of foxes living on the 13th hole of the golf course while living in Glenangus for 21 years....

Dick worked for 32 years at USF&G Insurance Company, in Baltimore, MD, retiring as Vice President of the Claim Department. Post retirement he answered an ad and found a wonderful professional home at Harford Mutual Insurance Company before retiring again after ten years as Workman's Compensation Supervisor.

Dick leaves to mourn his wife, Dian Sevra Hughes, two daughters, Erin Sevra Hughes and Megan Lee Pugh, and two grandsons, Mason Thomas Pugh and Brody Austin Pugh.

To know Dick you would have to know how proud he was of his two daughters, Erin and Megan, and that he was their silent protector always. Mason and Brody brought fun into his world and lightened his days. How he loved to have long conversations with Mason while sorting coins or looking through boxes of keepsakes under the bed. Brody and Pop shared the middle name of Austin, an honor that brought a tear to his eye.

To say Dick, Daddy, Pop will be missed is an understatement. Our family will continue to keep him alive and close by saying his name often and sharing his stories. How lucky we were to have him lead our family.

Dick was an Eagle Scout and a proud American who respected our flag and was in awe of the sacrifices of our military. He was a Reserve Police Officer in Missouri when he was a younger man and had the greatest respect for our police officers, firefighters, and emergency personnel.

In honor of Dick, our family would like to ask every person who reads this obituary to perform two random acts of kindness in memory of such a wonderful man. He was a true gentleman in every possible meaning of the word.

A Celebration of Life reception at MaGerk's Pub & Grill (120 S. Bond Street, Bel Air) will follow the service. Read More »
To send flowers or a remembrance gift to the family of Richard A. Hughes Jr., please visit our Tribute Store.