Class Of 1963
William Chrisman
High School
In Memory
Shirley Noland (Goodwin)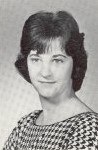 Shirley Ann Jenkins Goodwin (Noland)
Dec 6, 1944 - Oct 27, 2016
Shirley A. Jenkins (Goodwin) went to be with her Lord and Savior on October 27, 2016. A visitation will be held from 6-8pm on Tuesday, November 1, 2016 at Speaks Suburban Chapel, 18020 E. 39th St., Independence, MO 64055. A graveside service will be held at 11am on Wednesday, November 2, 2016 at Oakland Cemetery.
Shirley was born December 6, 1944 to Wilbur and Eleanor Noland. She was the best momma, grandma, great=grandma, sister and friend to many. She had the kindest heart of anyone. She loved with her whole heart. She will always be loved and greatly missed. Shirley will be remembered by 4 children: Janet Jenkins-Hatfield (Sam), Jimmy Jenkins, Sherrie Harmon (Brent) Gerrie Brooks, "Marty"; 9 granchildren Amanda, Nikki (Chad), Joshua, Codi, Drew, Dillon (Maia), Brandie (Scott), Roydale, Justin (Shirley); 16 great-grandchildren Kennedy, Elias (Caleb), Jordan, Lillian, Lucas, Jaden, Jacob, Chloe, Brennon, Zyler, Kenzington, Aiven, Ethan, Alana, and Finley; sistets Saundra (Donald) Willing, Edie (Bob) Carson, Sue (Doug) Stevens; honorary sister Marilyn Jungman; nieces Lori, Devin, Jenny; nephews Anthony, Bobby, Steven, C.C., Tommy, Ronnie; her very best friend of 60+ years Carolyn Johnson; and many others who called her grandma and friend. She was preceded in death by her parents, Eleanor McDaniels, sister Serena Jones, brother-in-law Sam Jones, sister Donna Houchins, and grandson Jacob Jenkins.
The family suggests memorial contributions be made to the American Heart Association or the Multiple Sclerosis Society. Online condolences may be expressed at www.speakschapel.com.